PT4Pro® has been in the fitness game for over 3 years. Our products provide ordinary people, sports enthusiasts and athletes with a unique method of working out: suspension training. All our products come with a 12 month warranty. Find out more about our company on this page and click the link below for our terms and conditions.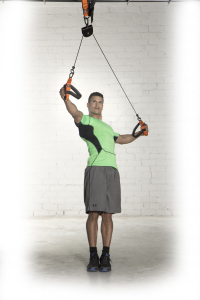 Terms and Conditions
All users of this site agree that access to and use of this site are subject to the following terms and conditions and other applicable law. If you do not agree to these terms and conditions, please do not use this site.
Copyright
The entire content included in this site, including but not limited to text, graphics or code is copyrighted as a collective work under the Dutch and other copyright laws, and is the property of PT4Pro. The collective work includes works that are licensed to PT4Pro. Copyright 2011, PT4Pro ALL RIGHTS RESERVED. Permission is granted to electronically copy and print hard copy portions of this site for the sole purpose of placing an order with PT4Pro or purchasing PT4Pro products. You may display and, subject to any expressly stated restrictions or limitations relating to specific material, download or print portions of the material from the different areas of the site solely for your own non-commercial use, or to place an order with PT4Pro or to purchase PT4Pro products. Any other use, including but not limited to the reproduction, distribution, display or transmission of the content of this site is strictly prohibited, unless authorized by PT4Pro. You further agree not to change or delete any proprietary notices from materials downloaded from the site.
Trademarks
All trademarks, service marks and trade names of PT4Pro used in the site are trademarks or registered trademarks of PT4Pro.
Warranty Disclaimer
This site and the materials and products on this site are provided "as is" and without warranties of any kind, whether express or implied. To the fullest extent permissible pursuant to applicable law, PT4Pro disclaims all warranties, express or implied, including, but not limited to, implied warranties of merchantability and fitness for a particular purpose and non-infringement. PT4Pro does not represent or warrant that the functions contained in the site will be uninterrupted or error-free, that the defects will be corrected, or that this site or the server that makes the site available are free of viruses or other harmful components. PT4Pro does not make any warrantees or representations regarding the use of the materials in this site in terms of their correctness, accuracy, adequacy, usefulness, timeliness, reliability or otherwise. Some states do not permit limitations or exclusions on warranties, so the above limitations may not apply to you.
Limitation of Liability
PT4Pro shall not be liable for any special or consequential damages that result from the use of, or the inability to use, the materials on this site or the performance of the products, even if PT4Pro has been advised of the possibility of such damages. Applicable law may not allow the limitation of exclusion of liability or incidental or consequential damages, so the above limitation or exclusion may not apply to you.
Typographical Errors
In the event that a PT4Pro product is mistakenly listed at an incorrect price, PT4Pro reserves the right to refuse or cancel any orders placed for product listed at the incorrect price. PT4Pro reserves the right to refuse or cancel any such orders whether or not the order has been confirmed and your credit card charged. If your credit card has already been charged for the purchase and your order is cancelled, PT4Pro shall issue a credit to your credit card account in the amount of the incorrect price.
Term; Termination
These terms and conditions are applicable to you upon your accessing the site and/or completing the registration or shopping process. These terms and conditions, or any part of them, may be terminated by PT4Pro without notice at any time, for any reason. The provisions relating to Copyrights, Trademark, Disclaimer, Limitation of Liability, Indemnification and Miscellaneous, shall survive any termination.
Notice
PT4Pro may deliver notice to you by means of e-mail, a general notice on the site, or by other reliable method to the address you have provided to PT4Pro.
Miscellaneous
Your use of this site shall be governed in all respects by the laws of the Netherlands, without regard to choice of law provisions. You agree that jurisdiction over and venue in any legal proceeding directly or indirectly arising out of or relating to this site (including but not limited to the purchase of PT4Pro products) shall be in the state or federal courts located in the Netherlands. Any cause of action or claim you may have with respect to the site (including but not limited to the purchase of PT4Pro products) must be commenced within one (1) year after the claim or cause of action arises. PT4Pro's failure to insist upon or enforce strict performance of any provision of these terms and conditions shall not be construed as a waiver of any provision or right. Neither the course of conduct between the parties nor trade practice shall act to modify any of these terms and conditions. PT4Pro may assign its rights and duties under this Agreement to any party at any time without notice to you.
Use of Site
Harassment in any manner or form on the site, including via e-mail, chat, or by use of obscene or abusive language, is strictly forbidden. Impersonation of others, including a PT4Pro or other licensed employee, host, or representative, as well as other members or visitors on the site is prohibited. You may not upload to, distribute, or otherwise publish through the site any content which is libelous, defamatory, obscene, threatening, invasive of privacy or publicity rights, abusive, illegal, or otherwise objectionable which may constitute or encourage a criminal offense, violate the rights of any party or which may otherwise give rise to liability or violate any law. You may not upload commercial content on the site or use the site to solicit others to join or become members of any other commercial online service or other organization.
Participation Disclaimer
PT4Pro does not and cannot review all communications and materials posted to or created by users accessing the site, and is not in any manner responsible for the content of these communications and materials. You acknowledge that by providing you with the ability to view and distribute user-generated content on the site, PT4Pro is merely acting as a passive conduit for such distribution and is not undertaking any obligation or liability relating to any contents or activities on the site. However, PT4Pro reserves the right to block or remove communications or materials that it determines to be (a) abusive, defamatory, or obscene, (b) fraudulent, deceptive, or misleading, (c) in violation of a copyright, trademark or; other intellectual property right of another or (d) offensive or otherwise unacceptable to PT4Pro in its sole discretion.
Indemnification
You agree to indemnify, defend, and hold harmless PT4Pro, its officers, directors, employees, agents, licensors and suppliers (collectively the "Service Providers") from and against all losses, expenses, damages and costs, including reasonable attorneys' fees, resulting from any violation of these terms and conditions or any activity related to your account (including negligent or wrongful conduct) by you or any other person accessing the site using your Internet account.
Third-Party Links
In an attempt to provide increased value to our visitors, PT4Pro may link to sites operated by third parties. However, even if the third party is affiliated with PT4Pro, PT4Pro has no control over these linked sites, all of which have separate privacy and data collection practices, independent of PT4Pro. These linked sites are only for your convenience and therefore you access them at your own risk. Nonetheless, PT4Pro seeks to protect the integrity of its web site and the links placed upon it and therefore requests any feedback on not only its own site, but for sites it links to as well (including if a specific link does not work).
Ordering
Orders should be placed online using the shopping cart. If you encounter any difficulties, please contact us at +31 (0) 485-820222 and we'll be happy to assist you.
All orders must be prepaid by credit card or PayPal (Orders paid via PayPal e-checks will be held until PayPal advises your funds have been received. We reserve the right to cancel orders shipped to unverified PayPal accounts or those shipped to a third party. On Credit Card transactions, if the Bill To and Ship To are not the same, at our discretion, we will request a Credit Card Authorization Form be submitted to us, along with a copy of the Bill To party's Credit Card and Drivers License for orders to be shipped to a third party.
Order Cancellations
Because our orders are processed so quickly, The actual amount of time will vary depending upon the season, but in most cases the order will have undergone processing in less than three hours and therefore will not be able to be cancelled. If you cancel within 3 hours of your order, we may accept it with a 20% restocking fee. However, After 3 hours of placing your order, Orders cannot be cancelled.
Returns
Raw material products may not be returned because once shipped we can no longer guarantee the purity of the products for our customers. Defective or damaged merchandise will be replaced by PT4Pro.
In the event we make an error, we will gladly authorize the return of incorrect or defective merchandise and pay for the return shipping costs on domestic orders. Should we omit an item on domestic orders, we will ship it to you on notification of the shortage provided you contact us within 3 days of delivery.  You agree to carefully inspect all ingredients and products upon arrival and report any problems or need for replacement within3 days of receiving the goods. 
Damage Claims
Please inspect all packages at time of delivery and, if damaged, note on the UPS driver's delivery receipt when you sign for it to report it directly to them, and then contact us so we may process your claim.   If you notice any damaged items upon unpacking your order, leave the box and contents as is, save all of the packing material and contact UPS to arrange an inspection of your package, and contact us so we may process your claim.
Special Promotions
From time to time, we run special promotions on select products for limited periods of time. This could be based on various reasons including bulk discounts that we negotiated with our vendors or clearance discounts on discontinued items.
User Agreement
Customers should purchase products from PT4Pro  with the clear understanding that all products must be used at the customers own discretion. PT4Pro shall not be held responsible for any damages to property or for any adverse physical effects (including injury or bodily harm) caused by insufficient knowledge or the improper use of a product.
The user of the product is solely responsible for compliance with all laws and regulations applying to the use of the products, including intellectual property rights of third parties.
As with any manufacturing process, PT4Pro strongly recommends small lab scale testing for evaluation purposes prior to full commercial manufacturing.
PT4Pro  (and affiliated companies) reserves the right to update product prices at any time, for any reason. While we strive to maintain accurate and timely price information, we are not ultimately responsible for errors, omissions, or otherwise inaccurate prices on the website. The final amount of money due per order is always determined at checkout time, not during shopping cart selection.
Privacy Policy
Price / Payment

Payment
There are different methods of payment on the online store of PT4Pro:
– Paypal
– Credit Card
If you use another payment method, we cannot be held responsible for the loss of payment or any other damages resulting from the act.
Payment Processing
Payments can be processed only if the billing information is verified. If you pay by credit card, you will be charged once your order is past. We will make delivery after receipt of payment.
If no payment has been received within 12 working days after the date of your order, your purchase will be canceled.
Retention of title
We reserve title to the goods until full payment of these products.
Price and Currency
The prices indicated on the website include Value Added Tax (VAT), excluding postage. Shipping fees are automatically added during the summary of your order in the basket. The amount of make port depends on the country of delivery, the shipping method chosen and the weight of your shipment.
Prices are in Euro area regardless of how you place your order. The only impact is on the shipping costs.
Your total price
The total price stated on the last screen of the checkout process includes taxes and shipping costs. Prices are also indicated in the confirmation of receipt of your order, you may print or download for later reference. If you pay by credit card / debit card, the total amount of your order will appear on your bank statement in the currency of your country.
Price changes
The prices of products appearing on websites are subject to change. We reserve the right to change prices without notice, especially in case of change of VAT applied in the country of domicile of PT4Pro or in case of change offers.
Security of transactions

All banking information is securely encrypted.
Shipping and handling

Delivery – where and when
We deliver products from Monday to Friday. We proceed to any shipping and some holidays. Please consult the help section of the website in question to see the dates. We cannot process an order if the delivery address is a home or work address.
Delivery time
For Standard (not custom), we offer the Standard Delivery and Express Delivery.
* We try to meet the delivery times to the extent it is commercially reasonable. We do this in general, but cannot guarantee delivery of products within the specified time.
Shipping
Shipping costs are due to each order placed. The exact amount of shipping is calculated according to different criteria.
Free Shipping
Only concerns the withdrawal of orders directly to the shop.
Returns and Cancellations
Return of defective products after delivery
You have the right to return products that were delivered to you if they are defective or do not conform to your order when you receive them. After finding the fault, you have 7 days to return the product concerned from the date of receipt of the order. This does not affect your statutory rights. If your complaint is justified, the purchase price and shipping will be refunded.
Return products after delivery for any reason whatsoever
If for whatever reason, you are not satisfied (e) of the products you have ordered, you can return them within 7 calendar days after delivery, without giving any reason, provided that:
the products have not been washed or used in any manner whatsoever, the product is complete: e.g. all items of a set must be returned.
You cannot return:
products that have been tampered with.
Exchange a product
You can exchange your orders in case of non-satisfaction thereof in accordance with sections 8.2 and 8.3. However, the exchange of items is only valid for an identical or the same price and subject to availability. That is why the PT4Pro reserves the right in case of unavailability of a product to make the exchange.
Reimbursement will be made by bank transfer, you must tell us your bank details when returning your order. This will allow us to refund the amount directly from your account. You will receive a refund once the product is returned and stored at the depot.
Important Note on National Maestro payments: If you have paid by Maestro national and you did not fill the field "issue number" or "start date of validity" in payment, we will not be able to process a return order and / or grant you a refund.
Availability
The processing of all orders placed on the websites is subject to availability. We try to ensure that all items offered for sale are in stock. However, we reserve the right to refuse any order or to cancel any order if approved products are exhausted. In this case, we will notify you by e-mail and any payments will be refunded.